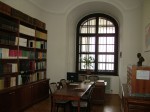 Research, reading in the reading room:
Since the majority of our collection consists of protected documents, reference primarily means reading and researching in the reading room. We can provide documents mainly for those interested in Catholic theology, church history, local studies of Veszprém city and county.
Literature research:
The librarians can provide assistance to researching certain topics at scientific level. In the research room jointly used with the Veszprém Archdiocesan Archives it is possible to research the material of both collections simultaneously.
Borrowing books:
Only the unprotected books can be borrowed. The possibility of borrowing is considered by the library manager on the basis of the protection and importance of the documents and other aspects.
Photocopy service:
We make photocopies or photographs of the library's documents. The possibility of copying depends on the protection and condition of the document.
Service
1–30 pages
31–60 pages
over 61 pages
photocopy (A4)
HUF 50/page
7HUF 5/page
HUF 100/page
photocopy (A3)
HUF 75/page
HUF 100/page
HUF 150/page
scanning
HUF 150/image
HUF 200/image
HUF 250/image
digital photograph
HUF 150/photo
HUF 200/photo
HUF 250/photo
 
digital photography ticket
HUF 1500/day
Interlibrary loan:
We provide our stock to other libraries in interlibrary loan.
Computer use, internet access:
The computers located in our research room can be used for accessing to our library catalogue, the CD-ROM databases in our collection and our multimedia publications.  We provide free internet access to our researchers on each computer. The librarians provide assistance for using the internet, the databases and the digital information resources.
Events, exhibitions:
Our library has a significant historic stock. Our collection contains a number of codices and 15–16th century publications. An especially valuable asset of our library is Bishop Ignác Koller's Baroque library room. We put our treasures on display at temporary exhibitions and open days.