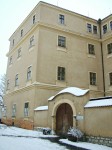 The modest successor of the old "famous chapter school", the seminary was opened in 1711 with 6 students due to the efforts of Bishop Ottó János Volkra (1710–1720), who started the reconstruction of Veszprém ruined by the two-century devastation of Turkish and Heister hordes. After Volkra's death in 1722, the seminary was discontinued and not restored until 1745 by Márton Biró.
When King Joseph II abolished the diocesan seminary education in 1784 and established the general seminaries, all the furniture and libraries of the Veszprém seminary were seized for the Pozsony seminary. From here the library later went to the university library in Pest. The general seminaries were dissolved in 1790, thus after 6 years of interval, the Veszprém seminary opened again. The university gave back the library of 147 books to the seminary in 1795. One of the requests for innovation submitted to the principals in 1845 was to provide the students easier access to the library of the institute, so that they themselves could use the library not only the prefect. The stock of the library started from a very small beginning and by 1896 it rose to more than 3000 volumes by donations and bequests.
The interests of a 950 forint fund of unknown origin were spent on purchasing periodicals. The guardian of the library is the prefect. The "A Veszprémi Püspöki Papnevelőintézet Könyvtárának betűsoros szakcímtára" [Alphabetical thematic register of the Veszprém episcopal seminary library] (Published by the Veszprém Episcopal Seminary. Veszprém, Diocesan press) states a stock of 6635 volumes. The significant treasures of the library are: Migne: Cursus patrologiae Latin and Greek serieses and a volume containing Pharsalia by Lucanus Marcus Annaeus published in Rome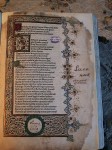 with gilded and white, blue, red, green, purple and yellow painted Italian scroll decorated title page, with some similar initials and richly decorated renaissance binding. The periodicals of the late 18th century and early 19th century include Felsőmagyarországi Minerva, Magyar Hirmondó, Magyar Minerva.
After the termination of the seminary in 1952, the library found a new home in the grand dining room of the episcopal palace. During the restoration of this monument, the library was moved to a room downstairs which is currently joining the archiepiscopal palace to the archiepiscopal office. From the 1960's the seminary library melted into the stock of the Episcopal Library.